We are excited to announce our new partnership with EBM Medical in an effort to help practitioners improve outcomes for peripheral neuropathy patients!

Their EB-N6DR prescription medical food is specially formulated to meet the distinctive nutritional requirements to manage symptoms of neuropathy and help prevent further damage from occurring by: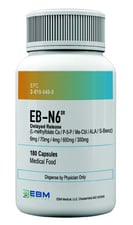 Improving blood flow
Decreasing inflammation around the nerves
Eliminating toxins that damage the nerve
Improving peripheral nerve repair by protecting the myelin sheath
EB-N6DR works synergistically with the MLS® Laser Therapy to ease pain and inflammation
. Request more information to learn how your practice can improve outcomes for peripheral neuropathy patients with medical foods in conjunction with MLS Laser Therapy.