Complete the short form below and you'll be re-directed to the webinar.

Featured Speaker: Dr. Kevin Wong
Who should watch this webinar?
Chiropractors who are interested in adding or implementing laser therapy to treat common upper extremity conditions.

What is covered during the webinar?
Anatomy: shoulder, elbow, and wrist

How to use a synergistic approach combining chiropractic adjustments, stretches, and laser therapy to treat many common upper extremity c

onditions including:




shoulder: dislocation, separation, tendinitis, bursitis, capsulitis, impingement, rotator cuff tear, labrum tear, frozen shoulder, and arthritis

elbow: golfers elbow, tennis elbow, olecrenon bursitis, cubital tunnel syndrome, radial tunnel syndrome, and arthritis
wrist: carpal tunnel, and ulnar tunnel syndrome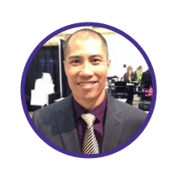 Dr. Kevin Wong graduated from Palmer College of Chiropractic West in San Jose, CA in 1996 with Summa Cum Laude honors. In his early years of practice, he also taught at Palmer West as a student clinician and as a lecturer. He is currently still a postgraduate faculty member for PCCW and has been a core lecturer for Foot Levelers since 2005. He is also a Rock Tape Certified Instructor and has incorporated Elastic taping procedures in his practice and his lectures since 2011.
Dr. Kevin continues to teach in the United States and Internationally on Extremity and Spinal assessment and adjusting. By incorporating Chiropractic with orthotic prescription, elastic sports taping and laser therapy, he covers a wide range of treatment options for Doctors and patients. Through live seminars and webinars, he teaches over 100 hours per year while maintaining a full-time practice.
His unique approach focuses on dysfunctional patterns created by the extremities and their effects on the spine and soft tissues. Dr. Kevin's practice inspires his teaching as he treats all age ranges, multiple techniques, full spine and all extremities. He describes himself as a" Foot, ankle and shoulder specialist who happens to be a Chiropractor."
Dr. Wong and his wife, Isabel, practice in the San Francisco Bay Area in a small city called Orinda. They live in nearby Walnut Creek with their two children and their dog.