---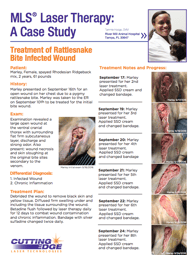 MLS Laser Therapy Heals Canine with a Rattlesnake Bite
Case Study: Clinical management of infected rattlesnake bite wound.
Summary: Marley, a 2yo, female, Rhodesian Ridgeback mix had presented with an odorous, open, necrotic wound on her chest that was sustained from a rattlesnake bite six days earlier.
Download the full study to see how the case was successfully resolved in under three weeks.